Iceland is to stop using palm oil in own-brand products by the end of 2018. This is the first major UK supermarket to ban palm oil, which is used in more than half of its own products, from biscuits to soap.
Iceland said growing demand for the oil was devastating tropical rainforests across southeast Asia. The frozen food outlet said it was alerted to the environmental challenges that palm oil presented by campaigners at Greenpeace.
Why is palm oil controversial?
Palm oil production is said to have been responsible for about 8% of the world's deforestation between 1990 and 2008;
Burning large areas of forests to clear areas where oil palms can be grown has also been blamed for high levels of air pollution in South East Asia;
Palm oil is used in almost half the products stocked by UK supermarkets and can be found in everything from shampoos to biscuits, as well as biofuels;
Some experts say eating palm oil is unhealthy because it is high in saturated fat; and
EU labelling laws were changed in 2014 so products must now state specifically if they contain palm oil.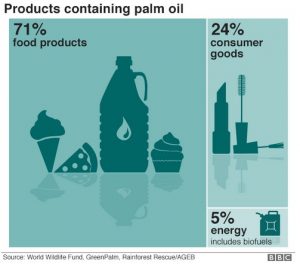 Iceland was the first supermarket to ban GM grown crops in its own-brand goods, and earlier this year said it would eliminate or drastically reduce plastic packaging of all its own-label products by the end of 2023.
We hope the other major retailers follow Iceland's lead and start to consider the impact they are having on our planet.
(Source: BBC News)